It is our great pleasure to share with you the results of the National research project titled "Montenegrin LGBTIQ Community in the Eyes of Presidential Candidates", in the form of the attached Research Report. This Report is the result of a very successful process of collecting, processing and analyzing data that we directly and indirectly collected from the presidential candidates.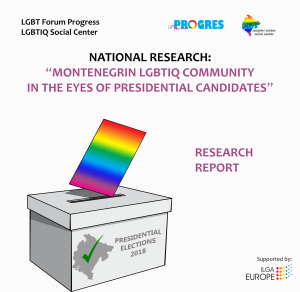 The aim of this research is to provide an objective, impartial and factual overview of the views and opinions of the presidential candidates in Montenegro, to all LGBTIQ people in Montenegro, in the domain of issues of importance for LGBTIQ community.The results of this research can in no way be interpreted as support or lack of support for any candidate, but only and solely as means of informing and observing all facts, through the prism of the LGBTIQ community.
Of the total of seven candidates to which the questionnaire was sent, Bojanic Mladen, Dedeic Dobrilo, Djukanovic Milo and Vuksanovic Draginja submitted the answers. Candidates Kalac Hazbija, Milacic Marko and Milickovic Vasilije did not submit their answers.
"The idea that stands behind this whole process is to give facts to all LGBTIQ persons, in a form of a detailed report, with all the accompanying analysis and overviews, in order for them to be able to make an informed decision when choosing a candidate in presidential elections. Additionally, we really have to emphasise that this research is the first of its kind in Montenegro, both because of its grasp and reach, as well as because of the fact that the same process will be repeated for the local elections in the municipality of Podgorica, as the most populated city in Montenegro. Both of these researches are being done in cooperation with our partners from NGO LGBTIQ Social Center, which recognised its relevance and many benefits that it will have for the LGBTIQ community in Montenegro" – Bojana Jokić, President, LGBT Forum Progress.
The conclusions that the research team of NGOs LGBT Forum Progress and LGBTIQ Social Center made are as follows:
1. Despite the fact that LGBTIQ related topics can be found in the programme documents of the parties, that is in the programmes of presidential candidates, both in positive and negative way, it has been noted that all presidential candidates, in their public speeches, at the conventions, when making statements to different media, in political debates and other forms of communication with the public refrained from directly referring to LGBTIQ persons or LGBTIQ themes.
2. During their public addresses, certain candidates called for respect for human rights, including and encumbering most minority and vulnerable groups, while completely ignoring the LGBTIQ population.
This restraint is a clear indication that presidential candidates not only do not recognize LGBTIQ persons as a potential voting body but, on the contrary, see them as a potential obstacle and believe they can produce losses with certain segments of the voting body. This fear of presidential candidates leads to political calculations, so they use the line of least resistance, that is, the exclusion of LGBTIQ persons from public discourse.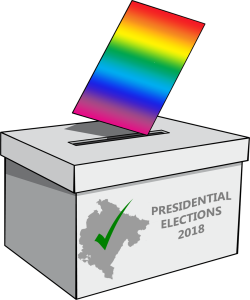 3. An additional component that is recognized in the analysis of presidential campaigns is the openness of certain candidates to represent the idea of limiting the rights of the LGBTIQ com-munity, including rights to free assembly, organized action, the right to regulate same-sex com-munities, and certain issues that are still not open among the Montenegrin LGBTIQ movement, such as the adoption of children or foster care.
4. When discussing the contents of the programmes of the presidential candidates, it was noticed that no presidential candidate recognized the importance of education as a proactive way of reducing the social marginalization of minority groups, including the LGBTIQ community. In addition, it is noteworthy that no presidential candidate, as part of their programme or public presentation, has addressed the issue of peer violence, which is particularly impacting young LGBTIQ persons.
5. During the campaign analysis, the research team noted that there were no open and publicly out LGBTIQ persons in the campaigns, either directly, through promotional videos, or in any other form of engagement in campaigns. This also confirms the still present, already mentioned wish of political parties, structures and association to disable the direct participation of LGBTIQ people in politics. The mere fact that three out of seven candidates did not submit their answers at all points to the unwillingness of political leaders to involve LGBTIQ people, both in political discourse and public life in Montenegro.
6. Out of all the analysed programmes, LGBTIQ persons are directly referenced in only one case in a positive sense, while in the programme of one political candidate LGBTIQ related topics are mentioned in a negative context, that is, in the context of the prohibition or limitation of the rights of the LGBTIQ community. In an additional media address of one presidential candidates LGBTIQ related topics and people are also mentioned in a negative context. As part of the analysis of other candidates, there are no references to LGBTIQ persons in a direct context.
Realizing that the first step in resolving the problem is its recognition, we hope that this research and the overall report will not only be a useful tool for all LGBTIQ people in Montenegro in their selection of candidates in the elections, but also a reminder that an inclusive society cannot be built without the full participation of all citizens.
The National Research "Montenegrin LGBTIQ Community in the Eyes of Presidential Candidates" and the accompanying Research Report are financially supported by ILGA-Europe, under their Creating Opportunities programme. Opinions, evaluations, conclusions and recommendations presented are the author's work and do not mandatorily reflect the donor's official positions.
The Report can be found HERE.
Veliko nam je zadovoljstvo da sa vama podijelimo rezultate nacionalnog istraživanja pod nazivom "Crnogorska LGBTIQ zajednica u očima predsjedničkih kandidata/kinja", u formi istraživačkog Izvještaja koji se nalazi u prilogu. Ovaj Izvještaj predstavlja rezultat veoma uspješnog procesa prikupljanja, obrade i analize podataka, koje smo direktno i indirektno prikupili od predsjedničkih kandidata/kinja.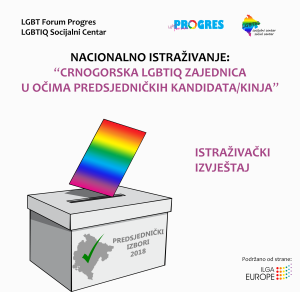 Cilj ovog istraživanja jeste da svim LGBTIQ osobama u Crnoj Gori pruži objektivan, nepristrasan i činjenični pregled stavova i mišljenja predsjedničkih kandidata/kinja, u domenu pitanja od značaja za LGBTIQ osobe u Crnoj Gori. Rezultati ovog istraživanja ni na koji način ne mogu da se tumače kao podrška ili nedostatak podrške za bilo kojeg kandidata/kinju, već isključivo i jedino kao sredstvo informisanja i sagledavanja svih činjenica, kroz prizmu LGBTIQ zajednice.
Od ukupno sedam kandidata/kinja kojima je upitnik dostavljen, svoje odgovore su dostavili Bojanić Mladen, Dedeić Dobrilo, Đukanović Milo i Vuksanović Draginja. Svoje odgovore nisu dostavili kandidati Kalač Hazbija, Milačić Marko i Miličković Vasilije.
"Zamisao koja stoji iza ovog cjelokupnog procesa jeste upravo da se svim LGBTIQ osobama predoče činjenice, u formi detaljnog izvještaja, sa svim pratećim analizama i obradama, kako bi mogli da donesu informisanu odluku prilikom izbora kandidata/kinje na predsjedničkim izborima. Dodatno, zaista moramo da naglasimo da je ovo istraživanje prvo ove vrste u Crnoj Gori, kako zbog obima i dosega, tako i zbog činjenice da će istim procesom biti obuhvaćeni i lokalni izbori u Podgorici, kao gradu sa najviše stanovnika u Crnoj Gori. Oba istraživanja se realizuju u saradnji sa našim partnerima iz nevladine organizacije LGBTIQ Socijalni Centar, koja je prepoznala njihov značaj i korisne efekte koje će da imaju po LGBTIQ zajednicu u Crnoj Gori." – Bojana Jokić, predsjednica LGBT Forum Progresa.
Zaključci do kojih je istraživački tim nevladinih organizacija LGBT Forum Progres i LGBTIQ Socijalni Centar došao su sledeći:
1. Uprkos činjenici da se LGBTIQ vezana tematika može pronaći u programskim dokumentima partija, odnosno programima predsjedničkih kandidata/kinja, kako u pozitivnom tako i u negativnom smislu, primjećeno je da su se svi predsjednički kandidati, u svojim javnim obraćanjima, na konvencijama, prilikom davanja izjava različitim medijima, u političkim debatama i drugim formama komunikacije sa javnošću uzdržali od direktnog pominjanja LGBTIQ osoba ili tematike.
2. Određeni kandidati/kinje su tokom svojih javnih obraćanja pozivali su na poštovanje ljudskih prava, obuhvatajući i pobrojavajući većinu manjinskih i ugroženih grupa, pritom u potpunosti ignorišući LGBTIQ populaciju.
Ovo uzdržavanje jasna je indikacija da se LGBTIQ osobe od strane predsjedničkih kandidata, ne samo ne prepoznaju kao potencijalno glasačko tijelo, već se, naprotiv, prepoznaju kao potencijalna prepreka i da mogu proizvesti gubitke određenih slojeva glasačkog tijela. Ovakav strah predsjedničkih kandidata/kinja dovodi do političkih kalkulacija, koje dovode do kretanja linijom manjeg otpora, odnosno isključivanja LGBTIQ osoba iz javnog diskursa.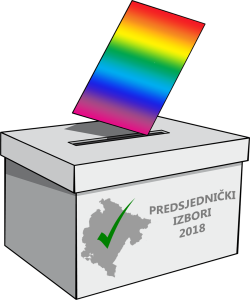 3. Dodatna komponenta koja je prepoznata u samoj analizi predsjedničkih kampanja jeste otvorenost pojedinih kandidata/kinja u zastupanju ideja ograničavanja prava LGBTIQ zajednice na slobodno okupljanje, organizovano djelovanje, pravo na regulisanje istopolnih zajednica, kao i određenih pitanja koja još uvjek nisu otvorena među crnogorskim LGBTIQ pokretom, kao što su pitanja usvajanja djece ili hraniteljstva.
4. Prilikom razmatranja sadržaja programa predsjedničkih kandidata/kinja, primjećeno je da nijedan predsjednički kandidat/kinja nije uvidio važnost obrazovanja kao proaktivnog načina djelovanja na smanjenje društvene marginalizacije manjinskih grupa, uključujuči i LGBTIQ zajednicu. Dodatno primjetno je da nijedan predsjednički kandidat/kinja u sklopu svog programa, odnosno javnih izlaganja, nije tretirao tematiku vršnjačkog nasilja, kojem su mladi pripadnici LGBTIQ zajednice posebno podložni.
5. Istraživački tim je prilikom analize kampanja uočio da nije bilo otvorenih i javno autovanih LGBTIQ osoba u samim kampanjama, bilo direktno, bilo kroz promotivne spotove, ili u bilo kojoj drugoj formi angažovanja u kampanjama. Ovim se takođe uviđa i dalje prisutan, već pomenuti otklon političkih partija, struktura i asocijacija da omoguće direktnu participaciju LGBTIQ osoba u politici. Sama činjenica da tri od ukupno sedam kandidata uopšte nisu dostavili svoje odgovore ukazuje na nespremnost političkih lidera za uključenje LGBTIQ osoba, kako u politički diskurs, tako i u javni život u Crnoj Gori.
6. Od svih analiziranih programa, LGBTIQ osobe se direktno pominju samo u jednom slučaju u pozitivnom smislu, dok se u programu jednog političkog kandidata LGBTIQ vezana tematika pominje u negativnom kontekstu, odnosno u kontekstu zabrane ili ograničavanja prava LGBTIQ zajednice. U dodatnom medijskom obraćanju jednog predsjedničkog kandidata pominje LGBTIQ vezana tematika i osobe se takođe pominju u negativnom kontekstu. U sklopu analize ostalih kandidata nema pominjanja LGBTIQ osoba u direktnom kontekstu.
Svjesni činjenice da je prvi korak u rješavanju problema upravo njegovo prepoznavanje, nadamo se da će ovo istraživanje i sveukupan izvještaj biti ne samo korisna alatka svim LGBTIQ osobama u Crnoj Gori prilikom njihovog odabira kandidata/kinje na izborima, već i podsjetnik da se inkluzivno društvo ne može graditi bez punopravnog učešća svih građana/ki.
Nacionalno istraživanje "Crnogorska LGBTIQ zajednica u očima predsjedničkih kandidata/kinja" i prateći istraživački Izvještaj su podržani od strane organizacije ILGA-Europe, u sklopu njihovog Creating Opportunities programa. Mišljenja, ocjene, zaključci i iznesene preporuke su djelo autora, i ne odražavaju obavezno zvanične stavove donatora.
Izvještaj možete pronaći OVDJE.