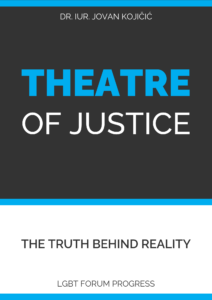 It is with great pleasure that LGBT Forum Progress publishes Theatre of Justice: the Truth Behind Reality, authored by dr. iur. Jovan Kojičić, renowned national and international expert in the area of human rights and LGBTI topics.
This publication presents a realistic view of the real problems of the LGBTI community, which have been the focus of our activities so far, as the longest-standing LGBTI organization in Montenegro. This publication discloses a novel concept of advocacy, planning and activities, but also the content structure of all future activities of the LGBT Forum Progress for the period 2022- 2026.
Through a comprehensive Intersectional Analysis, description of Predatory Culture and Governmental Approaches, and ten thematic, analytical chapters, the author of the Theatre of Justice manages not only to bare deep systemic and systematic problems and pulls out their roots, but also discovers the complete truth which lies behind Montenegrin reality – through the prism of the LGBTI community – and in a way which can easily be copied over onto other social groups.
Following such an extensive analysis, in Chapter Eleven we set 12 clear demands, in the form of an LGBTI Manifesto. The Manifesto represents a new concept in the approach and activities of the LGBT Forum Progress, but also the new opportunities for the Montenegrin Government to improve on areas such as data collection, healthcare and social justice, distributive justice, justice reform and access to justice, discrimination, and others.
Finally, in Chapter Twelve, a group of 14 internationally renowned professors, lawyers, public figures, and human rights defenders, explains the Montenegrin challenges in relation to the subject study, as well as their thoughts regarding the needs in achieving diversity and inclusiveness on the European integration path. We will allow for the words of some of the to convey the essence of the importance of this publication:
"We can't compromise on human rights. For changes to occur, the countries first should recognize a real systemic weakness, and then create a realistic road map on problems solving accordingly. If this is not the case, the problems will continue to grow and thrive." – Lenche Ristoska, Public Prosecutor & Liaison Prosecutor at Eurojust; Basic Public Prosecutor's Office Skopje, North Macedonia
"…it is of utmost importance to have the political will for changes, to secure implementation of a solid legal framework, and interpretation of norms in accordance with relevant international standards, which require adequate training of justice professionals." – Ivana Krstić, Ph.D., Professor of International Human Rights Law & Director of Human Rights Centre; Faculty of Law, University of Belgrade, Serbia
"Kojičić's book presents a unique approach to the study of the LGBTI problematics in Montenegro which seamlessly blends intersectional theory, social analysis, and policy advocacy; an approach no less accomplished and comprehensive for being a pioneer study of this sort in both Montenegro and the region. The sheer scope and the depth of the issues addressed in this study is impressive: Kojičić manages to guide the reader, ever with concision and clarity, and with reliance on most recent relevant scholarship, through a broadspectrum analysis of the position of the LGBTI people in Montenegro…" – Vuk Uskoković, MPhil, Researcher; European University Institute, Italy
"This analysis provides an extraordinary opportunity for countries in the Region to look on real (and systemic) problems in society, to find a focus, and also to learn how to improve and change people's lives. Leaders in all sectors of society must publicly acknowledge all weaknesses in relation to key values such as equity, dignity, equality and respect, especially for those who may face abuse, neglect and social exclusion as the LGBTI community is." – Helmut Graupner, Ph.D., Lawyer and Co-coordinator; European Commission on Sexual Orientation Law (ECSOL)
"Dr. Kojičić does not for a moment "hide" behind purely legal interpretation and deduction, nor does his platform consist only of the knowledge of jurisprudence, but persistently and skilfully reveals to the reader a wide range of sociological, psychological, and broader health, general social, and at times philosophical knowledge, which help to understand the problem and strengthen the author's argument." – Andrej Bracanović, LL.M., Teaching Assistant; Faculty of Law, University of Donja Gorica, Montenegro
"Behind a theatre play there is a manuscript. The manuscript displays the theme of the play, but it does not reflect the truth and nothing but the truth in relation to reality. Here is a parallel to law. It has a formal side and a material or real side. The last aspect of law is influenced by existing social norms. Changes in society is an impact of norms. […] It takes time before the truth behind reality becomes part of the theatre manuscript." – Håkan Hydén, Ph.D., Professor Emeritus; Department of Sociology of Law, Lund University, Sweden
"So called "Montenegrin culture" can be changed if we dive deep into the root cause and problems, analyse them and make an effort to change them. Change is hard, but not impossible." – Zdravko Cimbaljević, Human Rights Defender and Co-founder of LGBT Forum Progress; Vancouver, Canada
"Data is critical to understanding the extent to which LGBTI people face such exclusion in order to design services and implement policies that ensure LGBTI persons enjoy their full rights as citizens." – Ari Shaw, Ph.D., Senior Fellow & Director of International Programs; The Williams Institute, UCLA School of Law, USA
"…this publication is a gift to policy makers in Montenegro that outlines a unique road map/manifesto for comprehensive reform that is evidence-based and linked to regional and international norms and standards." – Kimberley Vance-Mubanga, Director of International Programs and Partnership; Egale Canada, Canada
Finally, we express special gratitude and to the partners which were with us throughout the entire process – The Williams Institute, Egale Canada, and European Commission for Sexual Orientation Law (ECSOL).