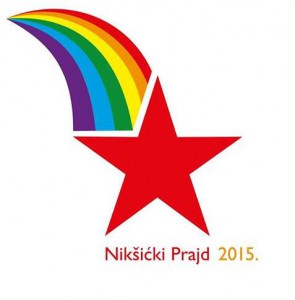 STOP TO FASCISM – FREEDOM TO THE PEOPLE 
NGOs "LGBT Forum Progress" and "Hyperion" confirmed the slogan and visual identity of the upcoming Pride Parade in Niksic.
 Pride Parade in Niksic will be accompanied by the slogan "Stop to Fascism – Freedom to the people" while the icon reflects a particular solution that symbolizes the inclusion of LGBT persons in a modern sense, as an anti-fascist legacy and emphasizes libertarian and advanced tradition of Niksic.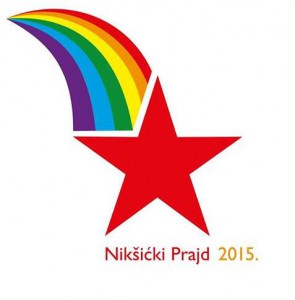 STOP FAŠIZMU – SLOBODA NARODU
Nevladine organizacije "LGBT Forum Progres" i "Hiperion" utvrdile su slogan i vizuelni identitet predstojeće Povorke ponosa u Nikšiću.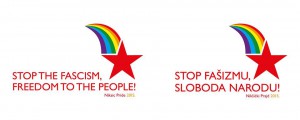 The author of the conceptual design of the Pride in Niksic is Darija Begic, a young artist from Podgorica. She graduated from the Faculty of Fine Arts in Cetinje, department of graphic design, while her specialization was illustration. She has participated in numerous group exhibitions in the state and the region, and her work has been published in several design sites. Begic has previously successfully designed several major LGBT issues.
Pride in Niksic, entitled "Academic Pride Parade", is expected to be held in September this year.
The former Pride Parades in Niksic, which were planned in April and May this year, were banned by the Police Administration due to serious security risks.
Povorka ponosa u Nikšiću biće praćena sloganom "Stop fašizmu – sloboda narodu" dok je za logo određeno rešenje koje simbolizuje u savremenom smislu inkluziju LGBT osoba kao antifašističku tekovinu i akcentira slobodarsku i naprednu tradiciju Nikšića.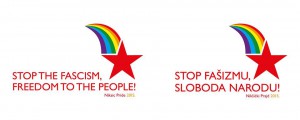 Autorka idejnog rešenja prajda u Nikšiću je Darija Begić, mlada umjetnica iz Podgorice. Završila je Fakultet Likovnih umjetnosti na Cetinju, odsjek Grafički dizajn dok je specijalizirala ilustraciju. Učestvovala je na brojnim kolektivnim izložbama u zemlji i regionu, a radovi su joj objavljivani na više dizajnerskih sajtova. Begić je ranije uspješno dizajnirala nekoliko kapitalnih LGBT izdanja.
Prajd u Nikšiću, pod nazivom "Akademska šetnja ponosa", očekuje se da bude održan u septembru ove godine.
Dosadašnje Povorke ponosa u Nikšiću, koje su planirane u aprilu i maju ove godine, Uprava policije je zabranila zbog ozbiljnih bezbjednosnih rizika.